Last month (November), I had an opportunity to have visited Georgia Institute of Technology (Georgia Tech), Atlanta, US, to have various meetings and discussions about possible future collaboration between Tokyo Tech and Georgia Tech, especially under the new educational settings at Tokyo Tech from the next year.
The mission was headed by Prof. Tetsuya Mizumoto, who is a Vice President for Education at Tokyo Tech.  Prof. Mizumoto was greeted by Prof. Berthelot, Vice-Provost for International Initiatives at Georgia Tech.  The meeting with VP Berthelot and the staff who are in charge of GT's international educational affairs was really significant.
We had also meetings with various GT faculty members and all of them were productive and informative (I am really grateful for their kindness and time)!  Actually those meetings would have been impossible without generous support from Prof. Brian Woodall this time.  Prof. Woodall had been a visiting professor at Tokyo Tech this year and the visit to GT last month was also such a nice opportunity to have seen him again.  Thank you so much, Brian-sensei!
N. Abe
Here are some scenes on GT's campus.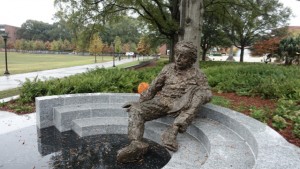 pic. do you know who he is??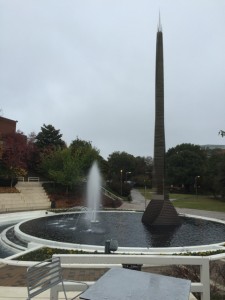 pic. Fountain in front of Students Center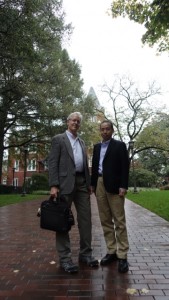 pic. Prof. Woodall and I (Abe) in front of Tech Tower building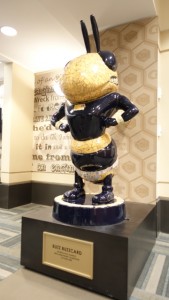 pic.  what you see is what you know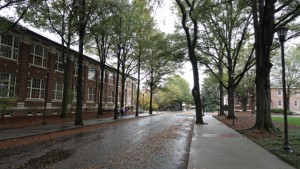 pic. a street in front of Tech Tower building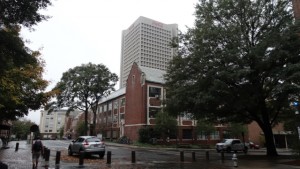 pic. HQ of Coca Cola company, which can be seen from GT campus easily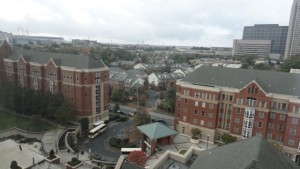 pic. a view from a on-campus dormitory building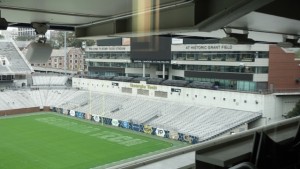 pic. GT's historical stadium for American football, whose seat capacity is 55,000!