This is Soejima, first year master's student in Abe-lab.
Last month, from October 19th to 22nd, Ambiyah-san, Ishio-san and I went to Pangan-an island in Cebu, Philippines to conduct a follow-up workshop with local people for bottom-up research. Our lab has conducted this workshop, including past workshops in Surabaya, Indonesia, in order to contribute to post 2015 project and this time counted the third time and also came to an end.
That was my first time to visit Philippines and also to organize (although my job was mainly assisting Ambiyah-san) this kind of workshop therefore I was very excited and curious about how local people in the island live their lives. Arriving at Philippines, warm weather, humid air and smell of outside welcomed us and it remained me of Southeast Asia's distinctive atmosphere.
Pangan-an island is located in southeast of Mactan island in Cebu and it took about an hour to get there by boat ride from the port. The boat was smaller than I expected and when depth of the sea was shallow, it needed to be pushed by sailors. Although our boat rolled several times by wave, we could gradually get used to it and finally reached the island safely. On the way of reaching the island, we could see local fisherman catching fish and shells, small children playing at the shore and also mangrove which you can hardly find in Japan.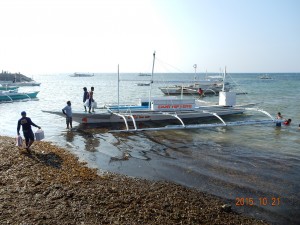 We took this small boat to reach the island
Dr. William-Hong, who is a graduate of our lab, helped to coordinate our trip and workshop as well, and played a role as MC during the workshop. Additionally, we had wonderful facilitators to smoothly conduct the event. With their generous support, we could collect the answers from local people which lead to our bottom-up research. It seemed that local people enjoyed answering questions and communicating with other people including us.
To my surprise, people in Pangan-an island have no toilets, forest and land are toilets for them, and they could not use water whenever they want because rain is the only source of water for them. On the other hand, they have an independent PV system donated by a Belgium company as source of electricity, though its batteries are outdated and cannot storage enough electricity anymore. Thus there is unique contrast that they have no water supply except rain, yet they have PV as renewable electric resource. I cannot believe that once you take a boat for one hour from Cebu where infrastructure such as water, electricity and transportation are mostly satisfied, you would reach the island where there is not enough water supply, unstable electricity and no medical facilities even within the same country. I felt as if we were in different world. In addition, I heard that currently there are about 1,000 households in the island, and there are schools from elementary to high-school education. We could see a number of children playing outside in the island, and the atmosphere of the island was very vigorous and people looked happy even though they spend their time under harsh environment.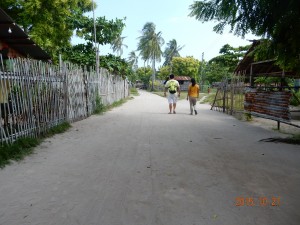 At the village of the island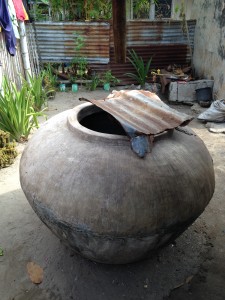 A tank to store water
Most Filipino people who I met in Pangan-an island and also Cebu were very kind and warmly welcomed us. We greatly appreciate William-san. Without his support, we would never conduct this workshop. Moreover facilitators were also very cooperative and kindly taught us about the island and Philippines therefore I'd like to say thank you to them again.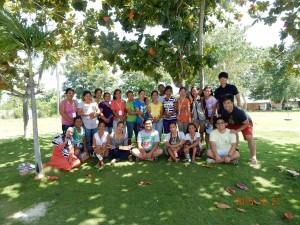 Group photo with female participants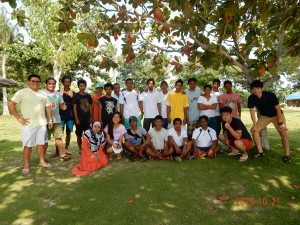 Group photo with male participants
I could spend such an unforgettable time which I have never gone through and there were a lot of findings by staying in Philippines for four days. Although people in Pangan-an island looked very happy, they must have a lot of difficulties and challenges they face in their daily lives. Now "someone living in an island" have become "he/she living in that island" because I indeed visited the island and got to know people over there. From now on, that fact would motivate me to study about development and I'd like to follow up how their lives will change in decades.
Soejima (M1)