Moussa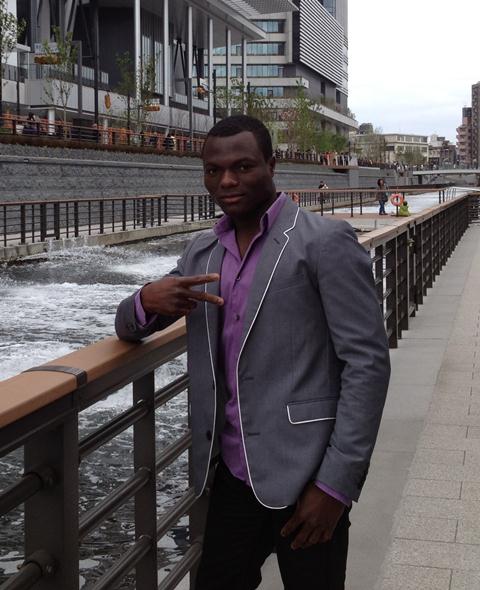 Mr.Moussa Garba-Say Zoulkanel
from Republic of Benin,
M1 graduate student, Otsuki research group
1. What do you major in?
I major in Civil Engineering and I belong to OTSUKI Lab, where the main topic is durability of concrete. More specifically, in my research I focus on the applicability of seawater in mixing concrete.
2. What made you decide to study overseas?
I decided to study abroad, and especially in Japan because Japan has excellent technologies in the domain of Civil Engineering, as well as in Electronics and many other fields. Therefore, by studying here I can, first learn more specific and advanced technologies and be able to improve my skills, in order to contribute to the future development of the Third World. Secondly, I can expand my horizons, develop and grow new ideologies as an international student; finally to explore new cultures.
3. Why did you choose IDE, Tokyo Institute of Technology?
For me, Joining Tokyo Tech has been one of my biggest dreams. As you may know, this is one of the Top 3 Universities in Japan, and in Technology domain it is distinguished and known worldwide. Furthermore, I chose IDE because I would like to help developing countries in the world to improve their living conditions, to catch up the gap with developed ones. In order to accomplish this resolution, I think a place such as IDE is the most indicate.
4. What are your career goals?
After completing my Master course in Tokyo TECH, I would like to enroll in a Civil Engineering company in Japan, so that to acquire basic and professional work experience as a field Engineer.
5. Can you describe IDE in a simple way?
In one word, I would say "IDE, for a better and sustainably developed world!"
6. What has IDE given you the opportunity to do that you have never tried before?
Have the chance to be taught by very good and experienced professors. I would like to mention also the commodity and convenience of IDE platform; the department is pretty oriented to foreigner, since many of the students and teachers have a lot interest in the world. Therefore it is very easy to familiarize with them.
On the other hand this department has multidimensional course option. Besides that the lectures focus on projects evaluation, concept of sustainable development, with concrete examples and case studies based on past projects. In IDE we also learn the functioning of international community structures such as UNESCO, UN, UNDP, as well as globalization and international cooperation.
7. How do you like studying in Tokyo? Do you enjoy life in Japan?
As you may know, Tokyo is one of the biggest metropolis is the world. Obviously, living cost is high but in many ways it is convenient. For displacement just with 130 yen you can make a trip in town, using the multiple trains and subway lines inside and around the city. Unlike many big cities in the world, every strategic place in Tokyo is reachable by train; my favorite line is " Yamanote", and I highly suggest it to you too. Also Tokyo has a lot of diversity in terms of entertainments, shopping and business, so as for opportunities. Personally I think Tokyo is the city "you have to visit"; I really love it.
8. What is your favorite restaurant in town?
Most of the time, I cook by myself in order to do some saving. However, when I want to eat at reasonable price I visit "Sukiya". Also when I'm meeting with friends, I sometimes go to " Yaki-niku" restaurants such as Gyu Kaku. Finally to enjoy Japanese delicious dishes I visit some "Sushi", " Okonomiyaki" restaurants in Shinjuku.
9. What are your favorite things to do on campus?
My lab is in the main campus of Ookayama, which is a very convenient area for both shopping and living. Usually I practice soccer with friends once or twice a week on the campus ground. Sometimes I also visit the gym for some physical training.
10. Some of the people reading this interview may want to come to Japan and study. Do you have any advice to give them?
Studying in Japan is a good and wonderful opportunity if you have a good sponsorship. Particularly if you will to learn great and recent technologies, here is the ideal place; Tokyo Tech being one of the most indicated place. The only thing you need to do is to have a strong will, and be specific and clear on your purpose.
For more details and advice feel free to contact.