Karma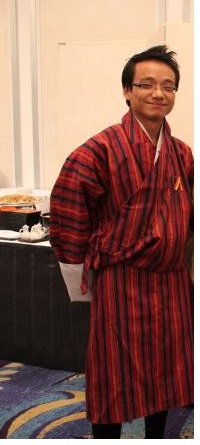 Mr.karma wangchuk
from Kingdom of Bhutan,
M1 graduate student, Takada research group
1. What do you major in?
I am studying wireless communication with focus on propagation channels.
2. What made you decide to study overseas?
It could have been a hard decision had it been any other place but coming to Japan was a no brainier. I have always been fascinated by this country, the Japanese people and the culture. I was always going to jump on the slightest of chances I got, to come here. The best part is my experience so far has only vindicated my decision.
3. Why did you choose IDE, Tokyo Institute of Technology?
I have worked for few years before deciding to come and study at Tokyo tech. I realized then that technical education alone was not going to be enough. Technical education sometimes, in its abstractness, looses relevance in the real world. I have enrolled in the IDE program at Tokyo tech with the expectation that it would provide one with solid foundations in technology while nurturing you to become a responsible technology leader in the future.
4. What are your career goals?
Once I finish my studies here I want to go back home and try to be a positive agent in the development of my Country.
5. Can you describe IDE in a simple way?
Engineering the future, responsibly.
6. What has IDE given you the opportunity to do that you have never tried before?
It has to be the opportunity to interact with people from so many different backgrounds.
7. How do you like studying in Tokyo? Do you enjoy life in Japan?
Tokyo is a great place to live. People let you keep to yourself but if you need help all you have to do is ask, you would be surprised to what extent some will go to help you!
The Tokyotech campus at Ookayama is a very lively place, you have kids from the neighborhood running around, birds chirping , students playing the trumpet ( sometimes too loud ) ,  it is more like a park , and yet you step in your lab and you can immediately sense the seriousness and the industry.  How you lead your life here is up to you, you can paint it the way you want it, the opportunities are there. And yes I enjoy living in Japan.
8. What is your favorite restaurant in town?
Kino, the ramen restaurant behind the campus. It is the go to place for a quick, delicious and a filling meal (that is if you like ramen like I do).
9. What are your favorite things to do on campus?
Watching the sunset, the silhouette of Mount Fuji with crimson sky in the background is a truly inspiring sight.
10. Some of the people reading this interview may want to come to Japan and study. Do you have any advice to give them?
You think Japan is a great place from watching those countless Animes and dramas? It is so much better in real.