Hiking Trip with other International Students
By Alvin Christopher Galang Varquez, D1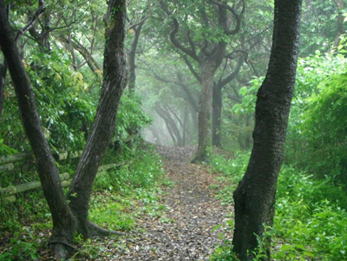 Welcome to Mt. Hayama!
Last June 9, 2011, I together with the Hanaoka lab research group from the International Development Engineering went hiking on Mt. Hayama. Itfs located in Miura District, Kangawa Prefecture.
William Hong, Doctor Candidate,
Abe-lab posing at the Shinzushi station sign

The weather was bad but we decided to stick to the plan and to brave the rain for some good hiking experience.
I was motivated to go there because I felt the need to take a break from the high velocity research life in Tokyo
and I felt like that time was the only opportunity I had.
The members of Hanaoka lab recently participated in a conference.
As a reward for their efforts, I offered to organize a hiking trip.
I also felt a little embarrassed for occasionally dropping by their lab for a chat.
After a series of deliberation and hunting for hiking spots,
we finally decided on a place where we could both hike on a mountain and visit the shoreline.

According to the information we got from the internet,
Hayama is actually a very easy hike which peaks to an elevation of not more than 300-m. and horizontal distance of 1.5km.
Since we thought it was our first time to hike together, we didnft feel it was a problem.
In other words, for us tourists of Japan, the scenery of nature was a higher priority than a good exercise.
The whole experience was an adventure.
The foot of Hayama actually takes 12-minutes by bus from the nearest station, Shin-zushi.
We instead opt to hike from the station to Mt. Hayama.
We were desperate for bentou because we were all hoping to find a kombini.
Luckily, half-way we found what we needed.
We reached the foot of Hayama, 40-minutes later after crossing bridges and passing through tunnels.
At the base of the mountain.
(L) Me
(R) Rubel Das, Doctor student, Hanaoka Lab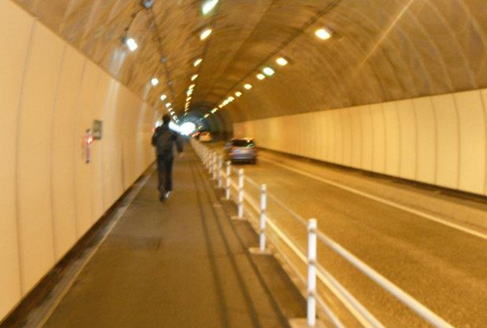 Me sprinting through the tunnel.
I discovered a few advantages of hiking on a drizzling day. First, obviously it was less crowded.
We only met one group of old women, and a couple of two middle-aged women.
Second, summer is approaching thus if it were sunny, walking will give all of us sun burn (ouch!).
The only disadvantage I found was that we could not see Mt. Fuji.
On the mountain lies one of 100 viewing spots of the gigantic volcano.





Going down the mountain.

At one of the popular Mt. Fuji viewing decks.

Going up the slopes of Mt. Hayama.
Since it was raining we had to bring umbrellas and raincoats.
(L-R) William Hong, D3, Abe Lab; Rubel Das, D2,
Hanaoka Lab; Azril Haniz, D1, Takada Lab; Yu Jing, M2,
Material Science Lab; Anita Odchimar II, D1, Hanaoka Lab
; Alvin, D1, Kanda Lab; Batari Saraswati, D2, Hanaoka Lab
Upon reaching the other side of the mountain, we all felt very impressed with the view of the sea.
The waves were not too high. At first we just enjoyed strolling by the shoreline.
We then decided to look for a beach. Growing up with the immediate access to the beach,
I've been itching to take a swim in the sea for quite some time. And almost of all of us did.

On our way back, we all decided to take a break in a random cafe.
After filling our appetites, we rode the train back to Tokyo with more friendship
and more motivation to overcome the next challenge.
Over-all we spent almost 9-hours for the trip.
We left 8:30 AM from Ookayama station and returned at around 5:00 PM.

Map of the beach we went swimming.
Unfortunately no pictures were taken because we were all wet.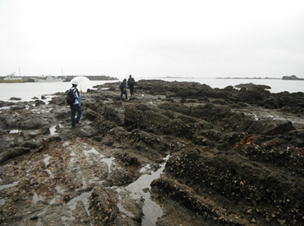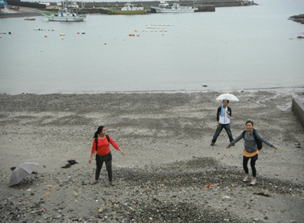 Reaching the other side of Mt. Hayama.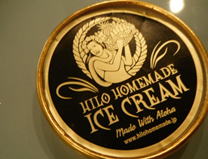 Treating ourselves to some refreshments at a random cafe.
We plan to conduct more hiking trips in the future. This time, I hope members of Kanda lab could participate in the experience.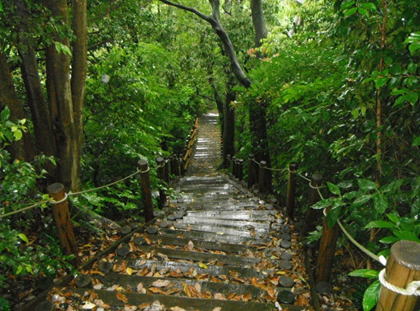 Where to next?
Credits to William for the photos.